8 Bit Action Music & SFX Vol.1
Music and Sound
These twenty retro action tracks are a blast from the past! Fill your game with authentic oldschool music and sound effects.
8 Bit Action Music & SFX Vol.1
Compatible with

RPG Maker MZ
RPG Maker MV
RPG Maker VX Ace

Visual Novel Maker
Features
20 music tracks suitable for action, boss fights, and menus!

150 SFX in the oldschool style!

.ogg and .m4a formats included for audio assets.

Royalty free music and SFX for use in RPG Makers, Visual Novel Maker or engine of your choice!



This racing, roaring collection of bleeps and buzzes will be music to the ears of anyone playing your retro games!
Composer Joel Steudler presents twenty tracks of exciting action music and blazing boss fights in the 8-bit style, along with a sizzling set of 150 sound effects to match!
▼BGM List (Click here to expand)
1. Action - Classical Hero
2. Action - Dystopian Opening
3. Action - Future Zone
4. Action - Hyper Fighter
5. Action - Into Orbit
6. Action - Keep Moving
7. Action - Not So Bad
8. Action - Onward Upward
9. Action - Skies Of Fire
10. Action - Wrecking Crew
11. Boss - Blaster Master
12. Boss - Castle Hassle
13. Boss - Jet Powered
14. Boss - Metal Monster
15. Boss - Time Bomber
16. Menu - Bringer Of Doom
17. Menu - Combat Command
18. Menu - Freedom Fighters
19. Menu - High Flying
20. Menu - Lost In Time
Adding product to your cart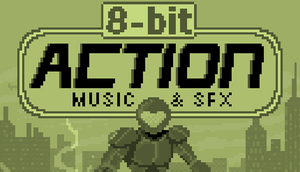 Bundles for 8 Bit Action Music & SFX Vol.1