8bit RPG ME Perfect Collection
Music and Sound
100 Music Events for your retro RPG! Crafted in true retro chip-tune 8-bit style, this DLC is a blast from the past, straight out of the 1980s, the golden era of SNES chip -tune generated sounds!
Featuring synthesizer tones true to the era, this style of musical events was ubiquitous and became a legendary, renowned style all its own! Revisit and revitalize the historic cutting edge of classic game sound; this pack is full of music events perfect for battles, fields, event and more!
Compatible with

RPG Maker MZ
RPG Maker MV
RPG Maker VX Ace

Visual Novel Maker
Features
100 ME (Music Event)

OGG, M4A formats included

8 bit ME for RPG fantasy and adventure and more!

For use in RPG Makers or the engine of your choice
Check out the full TK Projects DLC collection here!

Terms of Use:
This pack is for use in RPG Maker Series or the engine of your choice.

OK to be used in Commercial projects

Contents can be edited

OK for use in games with gore

OK for use in adult-rated games
▼ME List (Click here to expand)
8RMPC_ME001_Fanfare01~10
8RMPC_ME011_Happy01~5
8RMPC_ME016_Happening01~5
8RMPC_ME021_Horror01~10
8RMPC_ME031_Mistery01~10
8RMPC_ME041_Shock01~5
8RMPC_ME046_Sorrow01~5
8RMPC_ME051_Comical01~10
8RMPC_ME061_Curse01~5
8RMPC_ME066_ItemGet01~10
8RMPC_ME076_Rest01~5
8RMPC_ME081_Save01~5
8RMPC_ME086_Story01~15
Adding product to your cart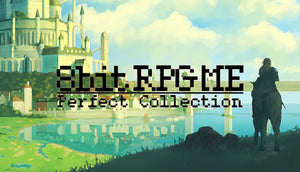 Bundles for 8bit RPG ME Perfect Collection