Action & Battle Themes
Music and Sound
Maker use only
Orchestrate the perfect, flawless heist with this fantastic new pack.
A clash of swords, the exchange of gunfire, all is quiet on this battlefield. There's something not quite right here, this battle is missing something. It's missing…….. music!
Compatible with

RPG Maker MZ
RPG Maker MV
RPG Maker VX Ace

Visual Novel Maker
Features
This new Action & Battle Music Pack by Scythuz features intense, dynamic and dramatic music that fits into 5 key themes: Orchestral, Electronic, Modern, Retro and Miscellaneous. Each track is designed to be as versatile as possible. These tracks aren't just battle themes they're also: cutscene themes, chase themes, event themes and maybe even character themes. 25 tracks are included in this pack and they're all made to work with the various graphics packs on this store.
This pack contains:
25 impactful music tracks.

Looped OGG, MP3 and WAV formats for use in RPG Maker VX/ACE and IG Maker.

Royalty free music to use in your commercial and non-commercial RPG/IG Maker projects.
Adding product to your cart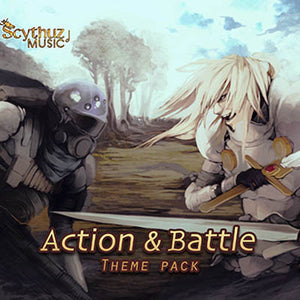 Bundles for Action & Battle Themes