Chiptune Metal Music Pack
Music and Sound
Commercial Maker only
Maker use only
Fill your retro game with powerful tracks thanks to the Chiptune Metal Music Pack!
Compatible with

RPG Maker MZ
RPG Maker MV
RPG Maker VX Ace

Visual Novel Maker
Features
---
Dr. B.A. Ferguson rockets into the DLC scene with this pack of 22 BGMs split into level and boss tracks so it feels cohesive no matter if your players are wandering a dungeon or battling foes!

Have a spooky track play in the background as your players search a haunted castle and give them a scare when a coffin is kicked open and the castle's classical-themed battle theme begins. Or use the tracks to give an audible clue when an area is safe from traps and enemies, switching from the energetic battle melody to a calmer tune of beeps and boops. Send your players on a world-wide adventure where each location has its own theme music, or have the tracks rotate in the dungeons so it feels new each time your players enter.
Also included are 3 MEs to help you fill in a few spots where your game could use updated sounds. Make sure your victory screen fits the rest of your game with a chiptune victory ME, and play a unique sound for good or bad events, with a chipper track for finding items and a troubled tune if your players stumble into a trap! Each track comes in M4a and Ogg file formats, making it easy to use in RPG Maker MV or MZ right away.

So if your game needs some nostalgic chiptune songs or you've been wanting to add some bombastic tracks for your players to rock out to while battling, check out the Chiptune Metal Music Pack!
Contents:
* 22 short royalty free BGM and 3 ME in ogg and m4a formats
Terms of Use:

* This pack is for use in RPG Maker Series ONLY
* OK to be used in Commercial projects made in RPG Maker ONLY
* Contents can be edited
* OK for use in games with gore
* OK for use in adult-rated game
Adding product to your cart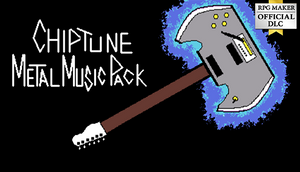 Bundles for Chiptune Metal Music Pack