Cyber City Music Pack
Music and Sound
Face the future with twenty tracks of synthetic sound suitable for cyborgs, humans and replicants alike!
Cyber City Music Pack
This pack of twenty tracks jacks in the sounds of soaring synths, heavy guitars, electronic beats and otherworldly textures to fill up your futuristic games.
Whether you're dreaming of electric sheep or tackling terminators, composer Joel Steudler has you covered. Also includes fifteen Music Events for short dramatic moments!
Compatible with

RPG Maker MZ
RPG Maker MV
RPG Maker VX Ace

Visual Novel Maker
Features
20 music tracks suitable for battle, drones, dungeons, menus, themes and towns!

15 ME Music Events for short dramatic moments!

.ogg and .m4a formats included

Royalty free music for use in RPG Makers, Visual Novel Maker or engine of your choice!



▼BGM List (Click here to expand)
1. Battle - Cyborg Ninjas
2. Battle - Electric Pulsar
3. Battle - Replicant Race
4. Battle - Scrap Metal
5. Battle - War Machine
6. Drone - Industrial Organs
7. Drone - Processing Substation
8. Dungeon - The Cage
9. Dungeon - Undercity Tunnels
10. Menu - External Memory
11. Menu - Thought Patterns
12. Theme - Lost Stars
13. Theme - Organic Growth
14. Theme - Time Drift
15. Theme - Wide Wonder
16. Town - Elysian Towers
17. Town - Neo Tokyo
18. Town - Section Nine
19. Town - Unknown Ecology
20. Town - Wetware Shop
Adding product to your cart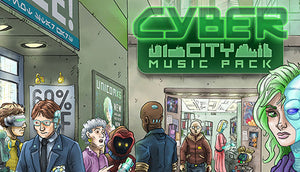 Bundles for Cyber City Music Pack