Japanese School Girls Vol.2
Voice
Japanese School Girls Vol.2 expresses the fun, carefree, exciting world of teenage girls!

Now you can add more female voices to your game! Japanese School Girls Vol.2 brings you 247 common / general sayings, sounds and sentences. Short, punctual and useful phrases to make your visual novel come alive!
Performed by a professional voice actress with 247 clips covering the whole spectrum of emotion.
Features:
voice of 247 clips.
.M4A and .OGG format included.
Track List
Pleasure (giggle, oh my! ......) 20 clips
Angry (enough, no......) 24 clips
Sorrow (what?, but......) 20 clips
Happy (like you, feels good ......) 24 clips
Moe (good boy / girl, no no, here you go......) 20 clips
Surprised (really?, no way!, that's not true!......) 20 clips
Greetings (hello, welcome, good bye......) 22 clips
Shy (don't look, I'm embarrased......) 21 clips
Responses (ok, right, got it......) 21 clips
Sweet (a little longer, don't leave, more......) 23 clips
Shock (why?, I can't......) 20 clips
Breathing 36 clips

Check out the full TK Projects packs here! 




Terms of Use:





* This pack is for use in RPG Maker Series or the engine of your choice.




* OK to be used in Commercial projects




* Contents can be edited




* OK for use in games with gore




* OK for use in adult-rated games



Compatible with

RPG Maker MZ
RPG Maker MV
RPG Maker VX Ace

Visual Novel Maker
Adding product to your cart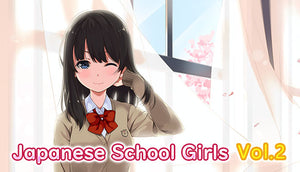 Bundles for Japanese School Girls Vol.2