Piano Story Music Pack
Music and Sound
Commercial Maker only
Maker use only
Take a break from the bombastic battle themes and find the perfect tune for your calm cutscenes with the Piano Story Music Pack!
Compatible with

RPG Maker MZ
RPG Maker MV
RPG Maker VX Ace

Visual Novel Maker
Features
---
NAKATOMO is here with 12 BGMs based around the piano that are ready to add some more emotion to your scenes. Fill your relaxed farming game with cheerful piano tracks during the day and calmer ones during the night, or make sure the music doesn't overwhelm a solemn scene by using one of this pack's slow and tragic songs. Reminisce with party members around the campfire while soft piano keys tinkle in the background and let your players know an area in a dungeon is safe by switching from exciting battle music to a calm piano-focused track.
Help your heroes wind down before resting with a relaxing tune in the inn and show how safe a town is with a soothing theme song. Or place the music itself in a scene by having someone playing a song on a piano to entertain the patrons of the pub. You could even create an adorable cutscene where your main character plays the piano with a friend or partner during a break from saving the world!
Each track comes in M4a and Ogg file formats, so it's easy to add them to your project that's been crying out for some slower tracks to fit certain scenes. So if your game could use some beautiful piano pieces or you just need some songs that will complement, not compete, with your story, check out the Piano Story Music Pack!
Contents:
* 12 songs in ogg and m4a formats
Terms of Use:

* This pack is for use in RPG Maker Series ONLY
* OK to be used in Commercial projects made in RPG Maker ONLY
* Contents can be edited
* OK for use in games with gore
* OK for use in adult-rated game
Adding product to your cart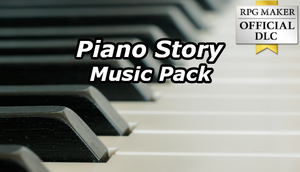 Bundles for Piano Story Music Pack