Karugamo Fantasy BGM Pack 05
Music and Sound
Let your fantasy take flight with the fifth charming selection of music tracks.
Karugamo Fantasy BGM Pack 05
Optimized for:
Karugamo Fantasy BGM Pack 05 explores more of the staples of video game music - mystical, suspense, cut-scene/event and romantic.
This DLC pack focuses on BGM themes with many variations suitable for dungeons, towers, and fields. Music for both ethereal, supernatural scenes and organic, earthly settings.
Whether you're on the lookout for the perfect theme for your epic saga or simply in need of creative music to listen to while you map, you can't go wrong with Karugamo Fantasy!
This pack contains:
28 BGM themes.
Instruments and composition styles you would find in many JRPGs
.m4a (ACC) and .ogg formats included.
Track List
▼BGM List (Click here to expand)
1. KBF_Dungeon_Natural_09_A
2. KBF_Dungeon_Natural_09_B
3. KBF_Dungeon_Natural_10_A
4. KBF_Dungeon_Natural_10_B
5. KBF_Dungeon_Natural_EW01
6. KBF_Dungeon_Natural_EW02_A
7. KBF_Dungeon_Natural_EW02_B
8. KBF_Dungeon_Natural_EW03
9. KBF_Dungeon_Natural_EW04
10. KBF_Dungeon_Natural_EW05
11. KBF_Dungeon_Tower_08
12. KBF_Dungeon_Tower_09
13. KBF_Dungeon_Tower_10
14. KBF_Dungeon_Tower_EW01
15. KBF_Dungeon_Unnatural_08
16. KBF_Dungeon_Unnatural_09
17. KBF_Dungeon_Unnatural_10
18. KBF_Dungeon_Unnatural_EW01
19. KBF_Dungeon_Unnatural_EW02
20. KBF_Field_Land_07_A
21. KBF_Field_Land_07_B
22. KBF_Field_Land_07_C
23. KBF_Field_Land_08_A
24. KBF_Field_Land_08_B
25. KBF_Field_Land_08_C
26. KBF_Field_Land_09
27. KBF_Field_Land_EW01_A
28. KBF_Field_Land_EW01_B
Compatible with

RPG Maker MZ
RPG Maker MV
RPG Maker VX Ace

Visual Novel Maker
Adding product to your cart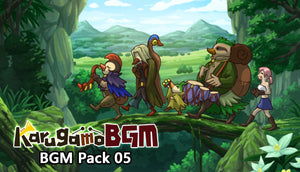 Bundles for Karugamo Fantasy BGM Pack 05