Summer Sound Material Collection
Music and Sound
Commercial Maker only
Maker use only
Find the perfect track for your game's beaches and summer festivals with the Summer Sound Material Collection!
Compatible with

RPG Maker MZ
RPG Maker MV
RPG Maker VX Ace

Visual Novel Maker
Features
---
Village sound has created an upbeat music pack with 18 tracks to put your players in the summer mood! Explore a sandy beach to the gentle rhythm of a marimba, or let your players relax to the tune of plucked strings while they shop at a village's festival stalls. Even your battles can get a summer makeover, with happy and fast-paced tracks that'll keep your players' toes tapping while they fight against crabs and mermen on the beach! Don't think you have to stick to the beach with this pack though! Send your player to a relative's farm for the summer with exciting banjos playing in the background, or let them wander into a magical forest where orchestral notes float through the air.
Fill your beach scenes with the soothing sounds of ocean waves with this pack's BGS, and update your sound effects with 23 new SEs! Give your menus some chipper clicks when selecting something and add a mystical jingle to certain attacks with these new SEs. Or turn a calm beach bonfire into an exciting battlefield with an explosive SE! Each track comes in multiple file formats, so it's easy to add it right into your favorite RPG Maker engine. Whether it's the middle of winter and you're dreaming of the warm sun or it's summer and you're inspired by a recent beach visit to make a game, check out the Summer Sound Material Collection for cheerful tunes!

Contents:
* 18 BGM in wav, mp3, ogg and m4a file formats
* 23 SE in wav, mp3, ogg and m4a file formats
* 1 BGS ocean wave loop
Terms of Use:
* This pack is for use in RPG Maker Series ONLY
* OK to be used in Commercial projects made in RPG Maker ONLY
* Contents can be edited
* OK for use in games with gore
* OK for use in adult-rated game
Adding product to your cart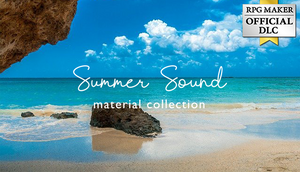 Bundles for Summer Sound Material Collection